József Goretity, literary historian, literary translator, Director of the Institute of Slavic Studies, University of Debrecen, has been awarded a prestigious international recognition for his work in fostering Russian-Hungarian cultural ties.
The award was personally conferred upon him by Valeriy Platonov, Director of the Russian Cultural centre in Budapest at the Russian Centre of the University of Debrecen in Debrecen on June 14.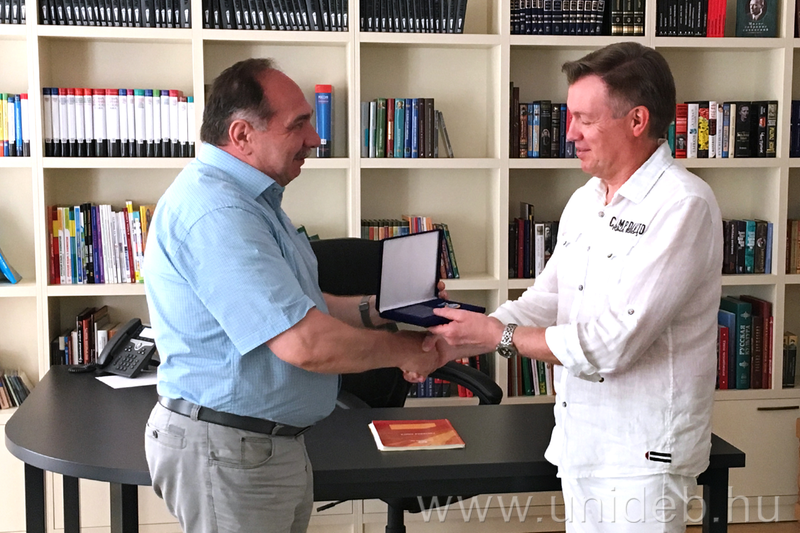 Rossotrudnitsestvo, working under the aegis of the Foreign Ministry of the Russian Federation and entrusted with the outstanding task of developing human relations between and among more than 80 counries of the world, has been giving out this award since 2012.
József Goretity is the first person at the University of Debrecen to be awarded this recognition.
The appreciation stressed that in deciding on the receiver of the award a major role was played by his work carried out so far in Russian-Hungarian educational, research and cultural cooperation, building relations between the insititutes of higher education in the two countries, organising staff and student exchanges, as well as by his work in researching contemporary Russian literature, organising scientific conferences, translating and popularising contemporary Russian literary works into Hungarian, educating young scholars of Russian studies and his outstanding work peformed in training both Russian and Hungarian literary translators.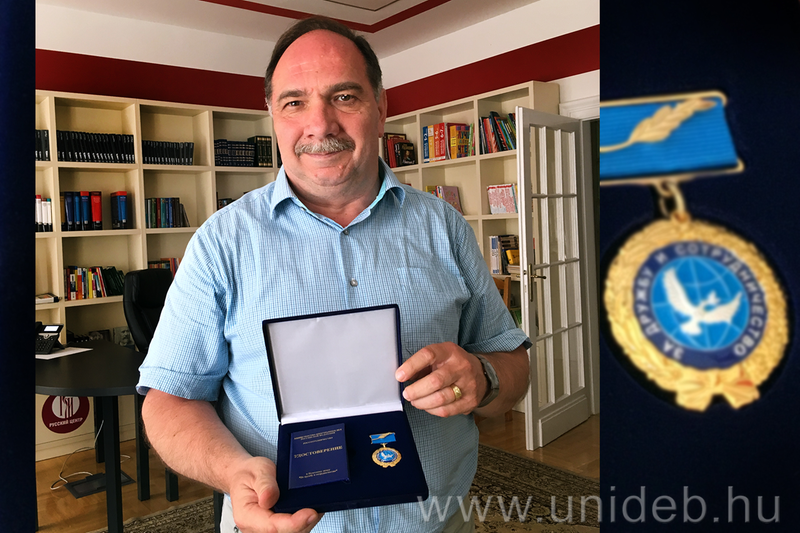 József Goretity has been regularly organising Russian-Hungarian and Hungarian –Russian translating camps since 2012 as a result of which several volumes containing translations have come out: four in Hungarian and two in Russian.
-It is a great honour for me to be a recipient of this award from Rossotrudnitsestvo. It is a strange thing when someone in their own country begins to deal with another country's language, literature or culture. There is always the danger of whether they can do this on a level that can be appreciated in the target language, too, József Goretity told hirek.unideb.hu. In order to be able to work with another nation's language, literature and culture, fostering and helping cooperation between one's own culture and the "foreign" target culture is indispensable. I have thought from the very beginning of my career that, in order for the other culture to be spread and popularised, it is necessary to translate the literature of the other nation into Hungarian and to introduce the younger generation into the the other culture in a positive way. I believe this is my task, this is my career, the award-winning director of the Institute of Slavic Studies said.
Press Office