This year, for his ground-breaking results in the field of cancer research, Sir David Philip Lane has received the "Debrecen Award for Molecular Medicine". The award-winning ceremony took place on Thursday at the UD. The discovery of the scientist primarily facilitates the treatment of leukemia.
The award, which was established in 2003, goes to internationally acclaimed researchers who achieve outstanding results in life sciences and whose findings can be used in medicine as well.

- This is one of the most important awards of UD. It recognises results that are of international importance. The connection established between laureates and the university is often the beginning of a fruitful cooperation – László Csernoch pointed out at the press conference prior to the award-giving ceremony.

The vice rector for science affairs said that the award represents the devotion of UD to molecular medicine, where the university plays an important role both in Hungary and abroad.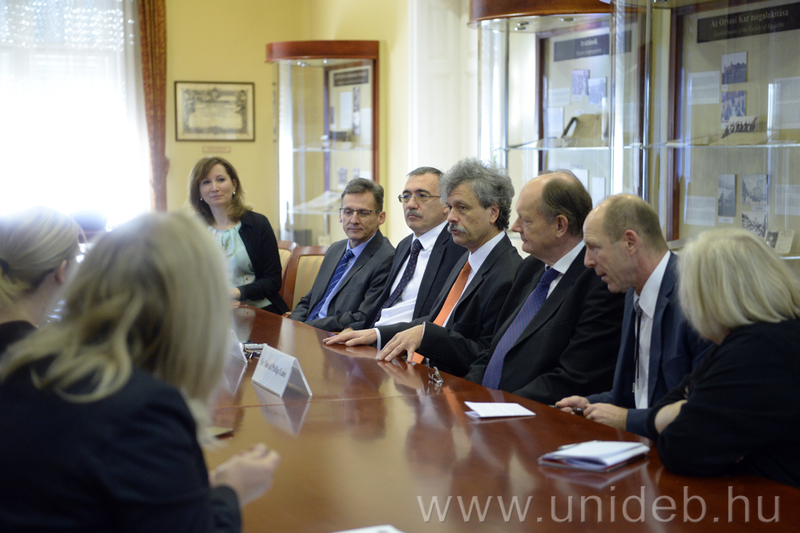 The "Debrecen Award for Molecular Medicine" has achieved major international recognition in the past 16 years. Lecturers of the Faculty of Medicine select the laureate from the nominees via secret voting.

- An important aspect is that the researcher's findings should facilitate the treatment of thousands or millions of patients in the near future – explained László Mátyus.

According to the dean of the Faculty of Medicine, one of the award-winners later became a Noble-laureate, and he also expressed his hope that it will happen again. László Mátyus added that it is important to maintain contact with top researchers of molecular medicine.

This year the award went to Sir David Philip Lane, who achieved ground-breaking results in the field of cancer research.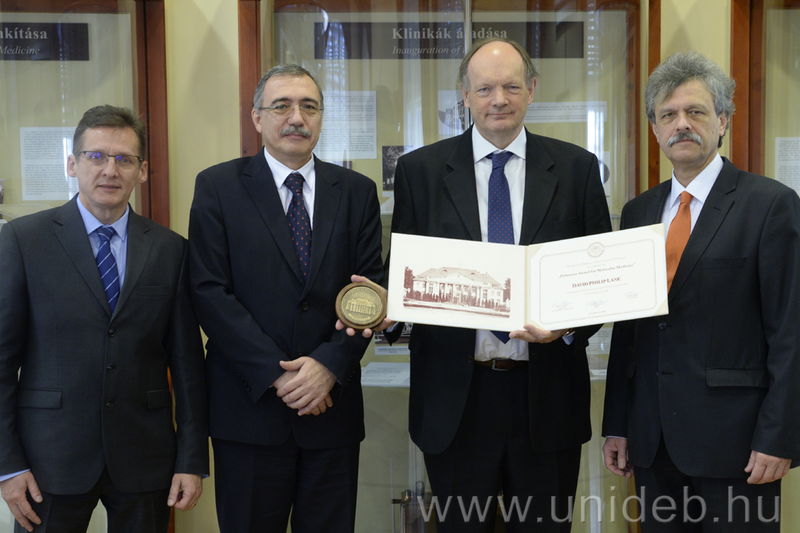 Zoltán Papp, vice dean for science affairs of the Faculty of Medicine, highlighted that Sir David Philip Lane had devoted his life to helping and developing the treatment of cancer. The British scientist is internationally recognised for the discovery of the p53 protein and its role in cell physiology. The p53 protein plays a key role in driving biological processes that fight tumours. Its mutations and abnormal forms can be identified in half of the cases of malicious tumours.

The award-winning researcher expressed his deep gratitude for the award and highlighted that he had been working as a researcher for 40 years in order to provide laboratory results that could be used in actual treatments.

- Within two or three years drugs that are suitable for treating leukemia, or even breast, ovarian and colon cancer, will be available, said Sir David Philip Lane.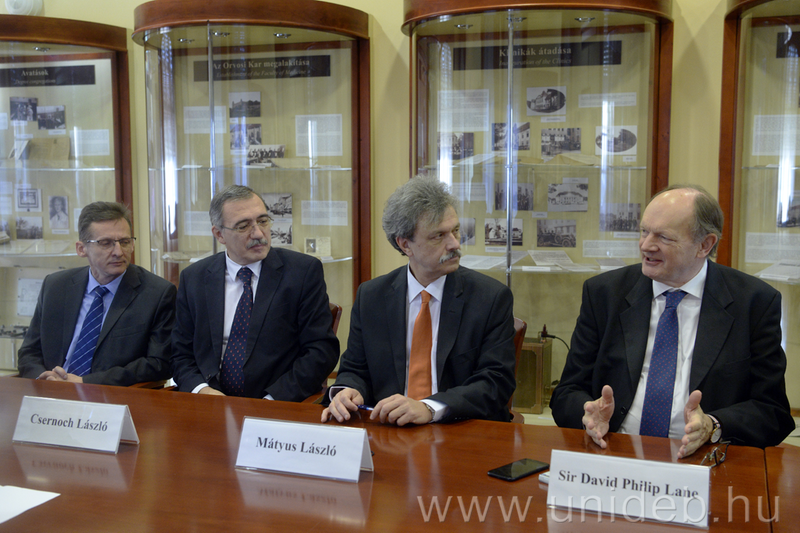 The British scientist hopes that in the future drugs will be developed that can be used to prevent cancer.

Sir David Philip Lane established research laboratories in London, Cambridge and at the University of Dundee. Currently he is the lead scientist of the p53 laboratory of the Agency for Science, Technology and Research (A*STAR) in Singapore, and also runs tumour research at the Microbiological Department of the Karolinska Institute in Stockholm. Sir David Philip Lane has already achieved several international awards with his results. In 1998 he received the highly prestigious Paul Ehrlich Prize, which is often followed by the Nobel Prize. In 2000 the professor was knighted for his scientific achievements.

Press Office